Gold Star Finance - Center TX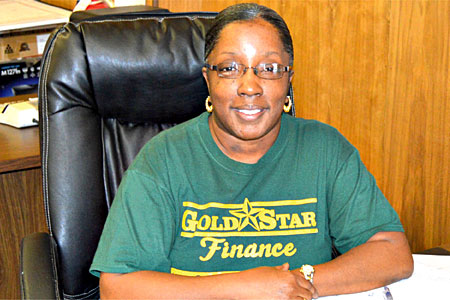 At the heart of all that is done at Gold Star Finance, in Center, is Mattie Suell who generously gives customer service to all who walk through the doors. "I strive to make sure that I treat people in the manner that I would like to be treated and create a friendly atmosphere for them. I enjoy working with people and trying to help them when they are in financial need," Suell said.
From when the company was Consumer Credit in 1999 to now, Suell has been employed 17 years with Gold Star. " I've seen how much our business has grown since I've began working here in 1999 and I think our customer service has contributed to that. We ensure that we develop great relationships with our customers and let them know that they can count on us to provide excellence. I think that's one thing that makes us stand out and that we continue to stand by," Suell said. Gold Star Finance, Inc. is a family owned Corporation with over 50 locations operating throughout Texas; from Texarkana to Wichita Falls to Brownsville, Texas and of course right on the square in Center. Gold Star Finance was founded by Forrest Marr and Innette Sofey Marr and is listed in the top ten operations in Texas with the Texas Consumer Finance Association.
Suell was born and raised in Center and attended Center High School. She was involved in DECA and played the clarinet and band. Her parents are Cranford and Zelma Lathan. She was the youngest of five children and the only girl. She enjoyed summer sports with her four older brothers. She also enjoyed fishing with her parents. One of her favorite past times is reading. She has been a life member of Mount Zion C.M.E. church in Center. Her current pastor is the Rev. Robert Gipson.
After high school Suell went to school for Respiratory Therapy but, found early on this career would not be for her.
She worked eight years with Bruce Hardwood Floors and as a manager at Reverse Management before it was relocated. Soon after she became the assistant manager at Consumer Credit before becoming manager with the company's newest name, Gold Star Finance.
Suell is the mother of three children. One daughter, Ashley, is a Professional Development Specialists with Compass Learning. She has two sons. Melvin, II will be graduating from the University of Houston in May. Marsh is a very outgoing father of three employed with Tyson. "I'm happily married to Melvin Suell, my best friend.
On December 30th we will celebrate our 25th anniversary. Melvin is a very encouraging husband in everything I desire to do. He has been a truck driver for over 35 years. We have been blessed to become owners of our own truck, Suell's Trucking. By the grace of God, throughout all our years, we have been truly blessing," Suell said.
"I love to be with my family and help take care of my mother. We enjoy traveling and spending quality time together," Suell said. When asked if there was anything she would like to do, or places she would like to see, she says she would like to spend a Christmas in Colorado, see more of the world and to do whatever God has in store for her to do to the best of her ability.
---
Article and photo reprinted with the permission of The Light and Champion.