Gold Star Finance Location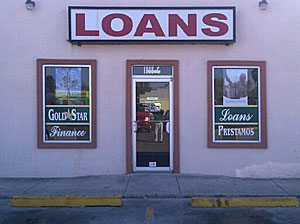 1908 E University Dr, Ste C
Edinburg, TX 78539
---
Fax: 956-383-4589
* Se habla español aquí.
Edinburg is a city in and the county seat of Hidalgo County, Texas, United States.

In 1908, John Closner, William Briggs, Argyle McAllen, Plutarco de la Viña and Dennis B. Chapin developed a new community (the town square of which
is now located at the crossroads of U.S. Highway 281 and State Highway 107).  The town was named Chapin in honor of one of the developers.  The community changed its name to Edinburg to honor John Young, a prominent businessman who was born in Edinburgh, Scotland.  The town was officially named in 1911 and incorporated in 1919.

Edinburg is the county seat of Hidalgo County, most major county offices are located there including the Criminal District Attorney's Office, the District Courts and County Courts at Law of Hidalgo County, the Community Supervision and Corrections Department, the Hidalgo County Juvenile Probation Department, the Hidalgo County Sheriff's Department and the offices of the County Judge, the Tax Assessor/Collector, the County Treasurer, County Auditor and Veterans Services.  Hidalgo County Commissioner's Precint Four represents Edinburg on the Hidalgo County Commissioner's Court.

In December 2012, officials announced the merger of the existing University of Texas-Pan American in Edinburg and the University of Texas at Brownsville into a regional institution.  A year later, in December 2013, University of Texas System officials decided to name the new institution the University of Texas Rio Grande Valley.