Gold Star Finance Location
Laredo - Guadalupe St
*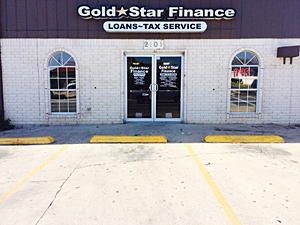 2101 Guadalupe St, Suite 2
Laredo, TX 78043
Phone: 956-753-6959
Fax: 956-753-6235
* Se habla español aquí.
Founded in 1755 as "the republic of the Rio Grande" Laredo is now one of the fastest growing cities in the nation, with an estimated population of 250,000. Known for its unique "Tex Mex" culture, a combination of Laredo and Nuevo Laredo Tamaulipas Mexico (our twin city in Mexico).

Laredo's economy is highly based on the international trade with Mexico. An industrial area located on "mines road" also Known as "Las Minas" is located in the northeast side of town. All major transportation and import & export companies have a facility in this area.

Besides the national holidays, one of the major festivities in town is the Washington's birthday celebration. Held during the month of February and attracting thousands of tourists. Kick off of these festivities is called "The Ueta Jamboozie" which takes place in the downtown area, followed by activities throughout the month such as; jalapeno festival, border beer fest, princess Pocahontas pageant, an air show, and two major parades that take place on San Bernardo avenue.

Our border town has a professional soccer team (Laredo heat), a professional baseball team (Laredo lemurs) and one full contact football team called "Laredo Roses." We have one community college which consists of 2 campuses, South & Central Laredo and 1 university located in the Bob Bullock loop area called "Texas A & M International University."
Return to complete list of offices.