Gold Star Finance Location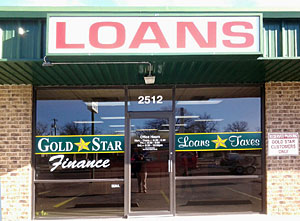 2512 W Waco Dr
Waco, TX 76701
---
Fax: 254-757-3993
* Se habla español aquí.
Whether you drive, fly, or walk to Waco, you are guaranteed a fun visit in the heartland of Texas. Waco is situated on I-35 corridor between Dallas and Austin.

The city was founded in 1849 by the Huaco Indians that lived on the land in the present-day downtown area. It offers some major attractions, five historic homes, seven recreational venues, and nine arts organizations staging theatrical and musical productions, as well as art exhibits.

Waco is the birthplace of Dr. Pepper, the Texas Ranger Hall of Fame and Museum, and the Texas Sports Hall of Fame. Waco is also the home to the Waco Mammoth Site, a 100-plus acre stretch of wooded parkland along the Bosque River.

Waco is also a major seat of higher learning with THREE major colleges in its city limits including: Baylor University, Texas State Technical College, and McLennan Community College.

The 2014 campaign marked the inaugural season of McLane Stadium, Baylor's new state-of-the-art home on the banks of the Brazos River. The 45,000-seat stadium is the new home for Baylor University football. Robert Griffin III, Heisman trophy recipient, graduated from Baylor..

Waco's Historic Suspension Bridge was the longest single-span suspension bridge west of the Mississippi when it was completed in 1870. The Riverwalk on the west side of the river extends from Baylor University, past the Historic Suspension Bridge and continues for an additional 1-1/2 miles to the Herring Ave. bridge. The completion of the Riverwalk on the east bank of the river allows visitors to walk or jog the Riverwalk loop and enjoy the view from both sides of the river.

Heritage Square, located in Downtown Waco, features shaded walkways, seating areas, water-play fountains and a beautiful sculpture featuring children at play.

Waco is the place to stop for scores of shops and restaurants galore!