Gold Star Finance Location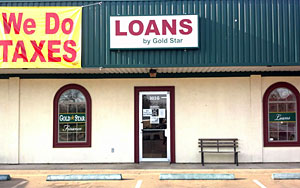 303G E Denman
Lufkin, TX 75901
---
Fax: 936-639-5633
* Se habla español aquí.
Lufkin ,TX is a city in Angelina County, known as the pineywoods. Lufkin was found in 1882 as a stop on the Houston East and West Texas Railway. Atkinson Candy Company , founded and headquartered in Lufkin, makers of Chick-O-Stick.

Also Lufkin is very well known as the home of the Lufkin Panthers Football located at the Abe Martin Staduim. Lufkin is located at the crossroads of East Texas at the intersections of Hwy US 59, future Interstate 69, which leads to Houston and the Rio Grande Valley to the south and Nacogdoches and Texarkana of the north , and US 69, which leads from the Golden Triangle of southeast Texas (Port Arthur and Beaumont) to points such as Jacksonville,Tyler, Dallas, and Oklahoma to the north. City of Lufkin is a growing population.