Gold Star Finance Location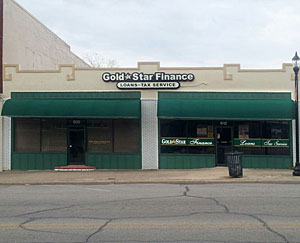 612 W Main Street
Denison, TX 75020
---
Fax: 903-463-4287
* Se habla español aquí.
Denison was founded in 1872 in conjunction with the Missouri–Kansas–Texas Railroad the "Katy" depot. It was named after the wealthy Katy vice president George Denison. Because the town was established at the intersection of the MKT and the Red River (both important conduits of transportation in the industrial era), it came to be an important commercial center in the 19th century American West. In 1875, even Doc Holliday had offices in Denison.

In 1901 the first electric "Interurban" railway in Texas, the Denison and Sherman Railway, was completed between Denison and Sherman, Texas. In 1915, the Kentucky-based evangelist Mordecai Ham held a revival meeting in Denison, which resulted in 1,100 professions of faith in Jesus Christ. Denison played host to 20th century notables such as the Marx Brothers and President Dwight D. Eisenhower, who was born on October 14, 1890, in Denison.

In 2013 Lake Texoma and the Denison area were named the Official Best Recreational Lake Area in Texas. The Hampton Inn and Suites in Denison was also named the Official Best Contemporary Hotel in all of Texas in 2013. The Hampton Inn and Suites Denison was selected for its stunning contemporary design and its phenomenal Internet presence as one of the nation's top rated hotels on the travel site Tripadvisor. Both Lake Texoma and the Hampton Denison were featured on a travel show entitled "The Official Best of Texas" which aired on CBS and the Discovery Channel and provided recognition to Denison as a premiere travel destination.

In 2014, The Hampton Inn and Suites Denison received the Tripadvisor Traveler's Choice Award for Exceptional Service. This Award lists the top 25 hotels in all of America based on service and customer feedback. The hotel was ranked number 16 nationally and proudly as the number 1 rated hotel by consumers in Texas. This award further solidifies Denison Texas as a premiere travel destination.

As you consider vacation travel today, we invite you to come and visit this quaint destination. We believe you will find that downtown Denison's Main Street is still known for many things, but most who come will enjoy the beautiful antiques stores, art galleries, local winery and restaurants all wonderful finds. Remember that President Dwight D. Eisenhower's birthplace is not far from downtown, where History was being made for our Nation, and you can enjoy more family fun by driving North on 75 just 10 minutes from town, out to wonderful Lake Texoma for all your fishing and boating fun. Join us for the fun annual Harvest festival, Earth Day celebrations, Car Shows, and Steet Celebrations when you get here.